Strategic Objectives
At the Community of Democracies' 28th Governing Council meeting, held in June 2019 in Santiago, Chile, the Governing Council Member States adopted the CoD's Strategic Plan for 2018-2023. The Strategic Plan reflects the commitment of the Member States to strengthen their cooperation to more effectively respond to complex challenges to democracy and embrace new opportunities to support democratic consolidation around the world.
By the adoption of the five years Strategic Plan, the Community is determined to address several specific sets of challenges to democracy, including backsliding along several principles of the Warsaw Declaration such as free and fair elections, core civil and political rights, and democratic checks and balances.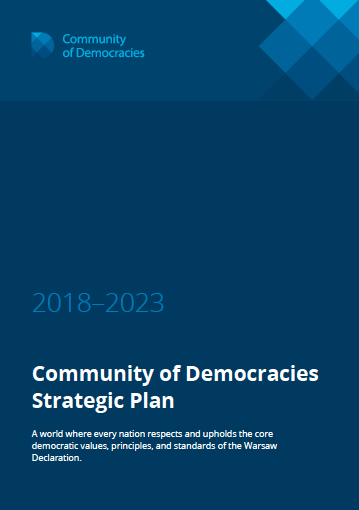 In line with the new strategic objectives, Members of the Governing Council, with support from the Community's Permanent Secretariat, will work with civil society to:
In addition to the three Strategic Objectives, Member States identified gender equality, youth empowerment and democracy and development as three cross-cutting themes that will be mainstreamed into all activities undertaken by the CoD.