The unlikely leader
The struggle for democracy in Belarus is dramatic and ongoing, and has included stolen elections, arrests of thousands of opposition leaders and dissidents by the government, and the hijacking of Ryanair flight 4978 over international airspace.
Sviatlana Tsikhanouskaya ran for President of Belarus in 2020 against President Alexander Lukashenka, who has been in power since 1994. She is the face of the opposition, an unlikely leader of an unlikely revolution, but the right person for this time. "I really want Belarus to become a prosperous country where people have a lot of opportunities to develop. We are in our fight now, but I believe in Belarusians, I believe in myself, and I believe in democratic countries that will not leave us. They will stand with us until we have new elections."
A self-described "normal person", Tsikhanouskaya insisted that she speaks not for herself but for Belarusians. "I am in Lithuania now, I am in exile, but I am only 30 kilometers from the border. I don't feel like I am in exile. And God bless the internet. I am communicating, I am in constant dialogue with people from all the spheres in Belarus. I have calls every day with teachers, with doctors, workers, pensionaries, sportsmen – our revolution is not about me or the other democratic leaders. It's about the people in Belarus. And it's not me who is telling people what to do. It's people telling me what my decisions should be. It's a grassroots revolution."
Her path is unusual. She married Siarhei Tsikhanouski in 2005 and postponed her career to devote time to family and two children, a five-year-old daughter and an 11-year-old son. "My husband was working, but it wasn't because I didn't want to work or have ambitions. I have a child with special needs, and I had to rehabilitate him, so that's why I was 'only a wife and mother."
In 2019, her husband started a YouTube channel to expose political corruption in Belarus. The channel became a political threat to Lukashenka.
As national elections drew closer in spring 2020, citizens believed that Covid-19 was not being addressed by Lukashenka's government and as a result, mass protests took place. Protesters of different political views were united in their anger and energized by the idea of Lukashenka's departure. Three primary opposition candidates emerged: Viktar Babaryka, Valery Tsepkalo and Siarhei Tsikhanouski, Sviatlana's husband.
As the campaign intensified, Tsikhanouski was arrested and imprisoned in May 2020. Sviatlana entered the race to stand up for her husband's rights. As she said, "My first step – why I came to campaign – was because of love for my husband. Then it became more general. But as a woman I always was a wife and mother, but when my husband was detained, I wanted to show him that what was important to him was important to me."
Women's Solidarity
The other primary opposition candidates were either arrested or forced to flee. Ultimately, the three campaigns united forces, and Sviatlana became the leading opposition candidate. The three women representing the main opposition candidates, merged their campaigns, pitting "Female Solidarity" to fight Lukashenka. "We are not competing now. We want to bring the country to new elections because the candidates were in prison already. We don't want power. We just want a new future for our children. We met for the first time and in seven minutes we agreed, yes, we want new elections," Tsikhanouskaya said in the interview.
On August 9, 2020, Lukashenka was reelected with 80 percent of the vote in a rigged election. The regime was prepared for demonstrations and tried to brutally suppress the protests as it had previously. However, the brutality mobilized even more people. "The Belarusian people protested against stolen votes. Three days after elections, thousands were detained, beaten and tortured in jail. The whole nation stood up against violence and fraudulent elections. Since then, violence from the regime has been increasing every day."
Women have played a key role in terms of the opposition movement: "Women on front lines was a forced measure because our men were detained and tortured in jails. This was now our task to stand in for our men. We felt we had to defend our men."
Describing the situation on the ground, she says "Since then, violence from the regime has been increasing every day. People have not given up. There were large peaceful demonstrations, where women took leading roles. No mass rallies because of violence, not because people don't want to get out because they can be kidnapped and sent to jail… [There are] small windows of opportunity to fight [and the] fight is moving to [the] underground level. Women are organized, doctors are organized, and they are fighting in the background."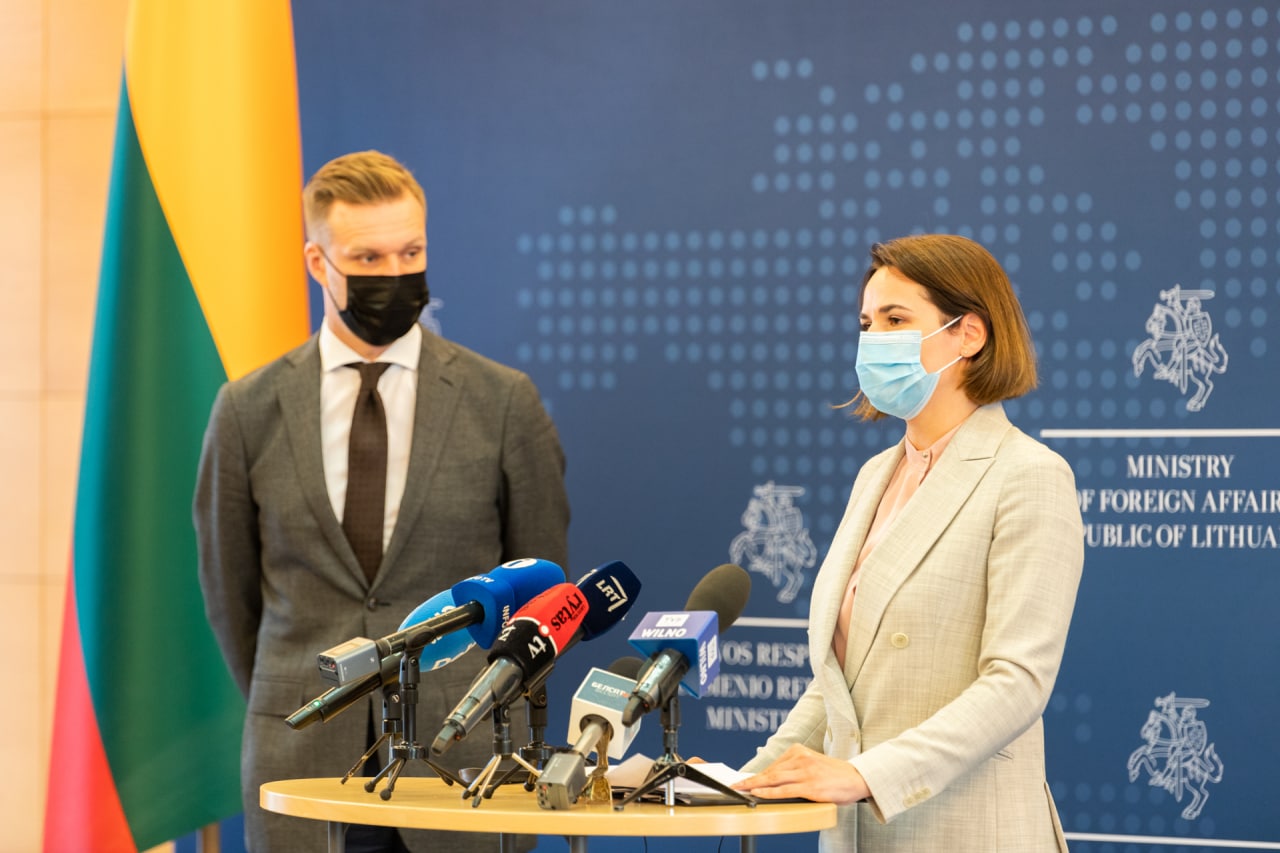 Building a new Belarus
Over the past 10 months, Tsikhanouskaya has met with international leaders and testified before official bodies across Europe and the world. "From the beginning democratic countries didn't recognize Lukashenka because they knew that elections were stolen and it was very inspiring to understand we are not alone – the democratic world is with us and we became stronger for a new democratic Belarus," she continued, "Sanctions were imposed from the Organization for Security and Co-operation in Europe and the Office for Democratic Institutions and Human Rights. The European Union (EU) used every diplomatic way to communicate with the regime, but they didn't want to hear." In just the last month, she has spoken in front of the U.S. Senate Foreign Relations Committee and the EU Foreign Affairs Council.
To date, there have been 35,000 detentions, 3,000 politically motivated criminal cases, thousands of cases of beatings and torture, and at least 10 protest-related deaths. When asked about the movement's commitment to nonviolence, Tsikhanouskaya says, "I am against any violence at all, so I would like this revolution to be peaceful because we don't want any victims. The regime [has] committed all these crimes. We don't want to [stoop] to the level of the regime. We want to be higher. We want to be the light. We want to be on the bright side of this fight."
The opposition's key goal is for there to be new democratic presidential elections in Belarus. In addition, the opposition is demanding a stop to the violence against the political opponents and peaceful protesters; release of political prisoners; and the resignation of President Lukashenka.
What does the future look like for Tsikhanouskaya? "I'm not going to be a politician in the future. I have a mandate only to bring the country to new elections. I told people that on election day, … I can be a moral authority for you, but I promise to you that I am not going to participate in the next elections. We have a lot of wonderful, experienced politicians in Belarus who will participate. You are not voting for me as a politician but against the regime, against the leadership, against violence."
"Belarus [is full of] wonderful and hard-working people. We want to build a new Belarus – prosperous, safe – where our people will have a good life. For 26 years, we lived in a state of so-called "stability" that Lukashenka promoted, but we don't want to live in this stability anymore. We want to develop."