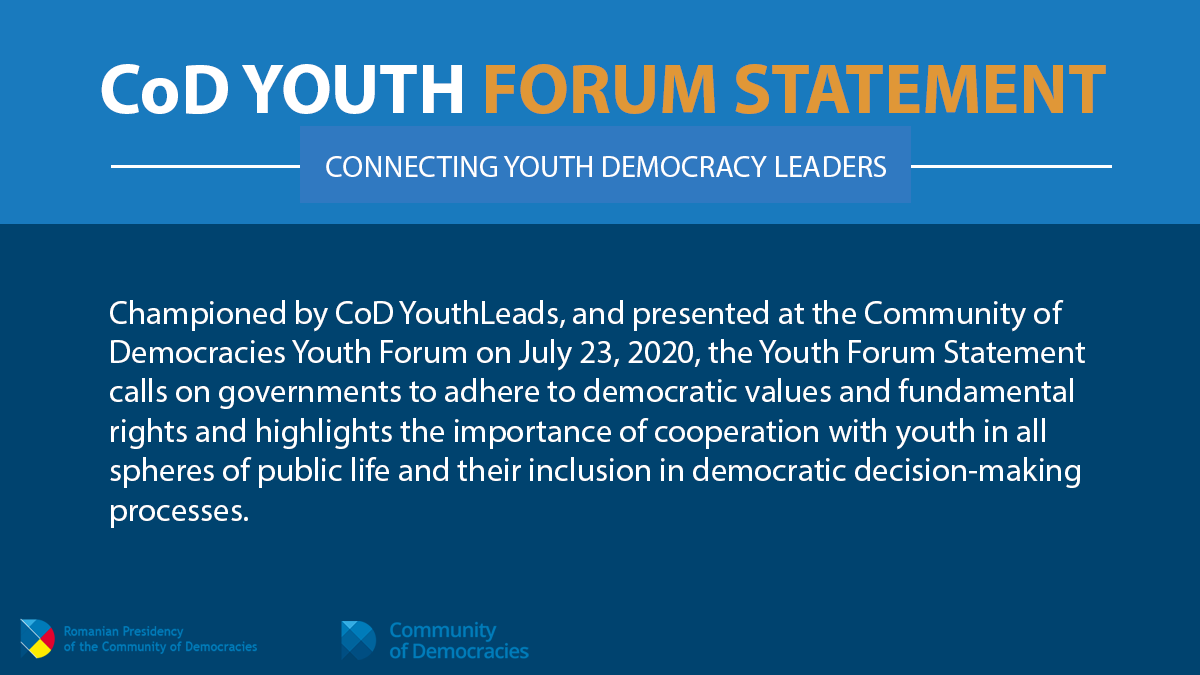 Youth Forum Statement
July 23, 2020
Championed by CoD YouthLeads, and presented at the Community of Democracies Youth Forum on July 23, 2020, the Youth Forum Statement calls on governments to adhere to democratic values and fundamental rights and highlights the importance of cooperation with youth in all spheres of public life and their inclusion in democratic decision-making processes.
CoD YouthLeads are a group of young activists and democracy leaders from different countries and regions, from Canada to Estonia through Nepal to Haiti, who are part of the Community's #CoDYouthLeads social media campaign celebrating the 20th Anniversary of the Warsaw Declaration.
The Youth Forum Statement is open for signatures for youth organizations and networks, and young people across the world. 
Sign up to the Community of Democracies' Youth Forum Statement
Download Youth Forum Statement in different language versions
Signatories of the Youth Forum Statement
Ioana Dospinescu, Romania; Jagdish Kumar Ayer, Nepal; Laura Danilas, Estonia; Lourdes Maria Argueta Vides, El Salvador; Lynrose Jane D. Genon, Philippines; Monika Ilioska Kantardzioska, North Macedonia; Philippa McCue, United Kingdom; Rafiu Adeniran Lawal, Nigeria; Reyaaz Scharneck, South Africa; Rita Saias, Portugal; Salimatou Fatty, The Gambia; Samuel Amofa Asante, Ghana; Tinatin Oboladze, Georgia; Walter Corzo, Guatemala; Wilbert St Fort, Haiti; Daria Onyshko, Ukraine; Moses Abolade, Nigeria; Maciej Duszyñski, Poland; Jennifer Ghraichy, Romania; Dorilda Kaçuli, Albania; Daniel Klingenberg, USA; Kryštof Látal, Czech Republic; Paola Rodriguez, El Salvador ; Afag Nadirli, Azerbaijan; Kristian Kina, Albania; Esma Gumberidze, Georgia; Arpine Sargsyan, Armenia; Boris Luketa, Bosnia and Hercegovina; Marija Bandulova, North Macedonia; Ana Jovanovska, North Macedonia; Santa Suhaka, Latvia; George Melashvili, Georgia.