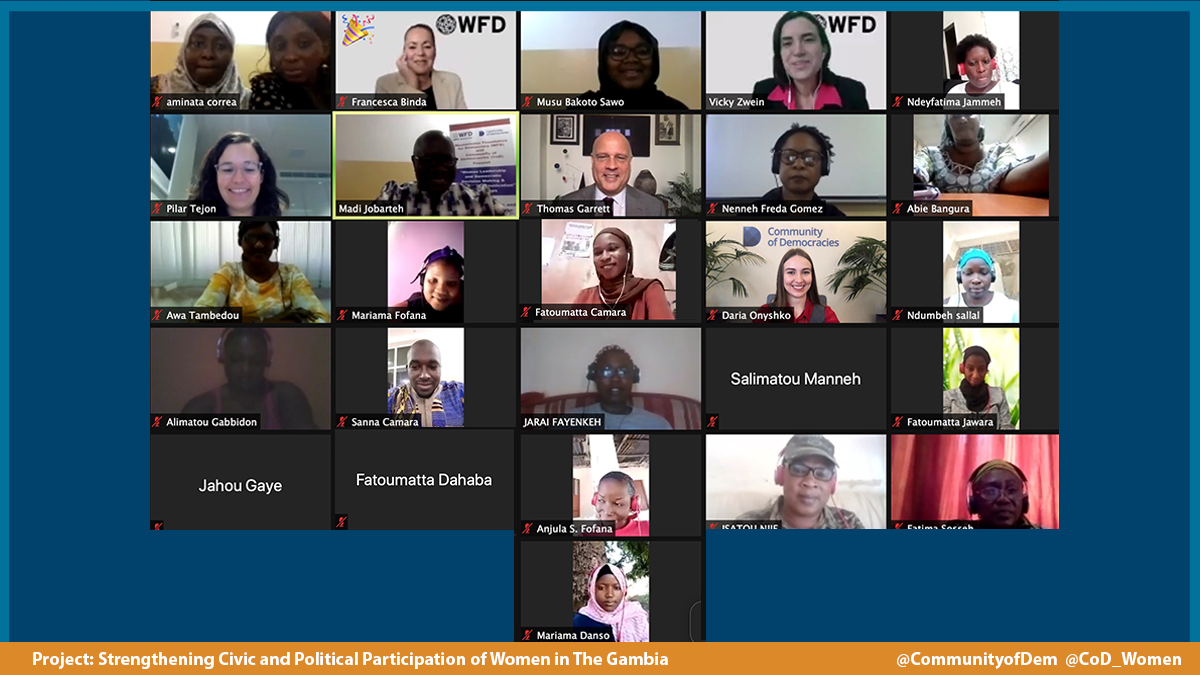 ' The story of The Gambia and its return to democracy still inspires people around the world'- closing remarks by SG Thomas E. Garrett
On November 18, 2020, SG Thomas E. Garrett delivered closing remarks at the online workshop held as part of Strengthening Civic and Political Participation of Women in The Gambia project. The initiative is implemented by a project partner Westminster Foundation for Democracy and supported by the Republic of Korea.
Full remarks by SG Thomas E. Garrett
Let me wish a Good afternoon to all of you in the workshop.
I am glad to join you today on behalf of the Community of Democracies – we are a global intergovernmental coalition comprised of the countries that support adherence to the common democratic values and standards outlined in the Warsaw Declaration, our founding document which marked its 20th anniversary a few months ago.
Facebook reminded me yesterday that it was exactly one year ago I was in your beautiful country.
I was a part of  a Community of Democracies' high-level delegation led by three women ambassadors, from Poland, Romania, and the United Kingdom. OUR visit included meetings with high-level officials and civil society activists to discuss current challenges and opportunities for democracy in The Gambia.
One of the recommendations presented to us during the visit was to support the participation of women in public life  in line with The Gambia's National Development Plan 2018-2021 and National Gender Policy 2010-2020.
With the support from Community of Democracies Member State the Republic of Korea, this recommendation was developed into a project on "Strengthening Civic and Political Participation of Women in The Gambia" and is currently being implemented by our project partner, the Westminster Foundation for Democracy.
On this note, I would like to express gratitude to the team of the Westminster Foundation for Democracy for their close cooperation on this important joint initiative. Let me also extend our thanks to international and local experts who lead the workshops and coaching sessions.
The political world is  one of the most challenging spheres of the public life for women to participate in. Although there are a few national parliaments that have come close to gender parity, less than one-fourth of the world's countries have 30 percent or more women in decision-making positions. It remains rare for women to reach high-level decision-making posts, such as heads of state, elected ministers, or speakers of parliament.
In 2020, the COVID-19 pandemic has brought even more new challenges to women's political participation and gender equality. But the pandemic has also shown us the importance of  women's leadership –  Finland, New Zealand, Norway and other countries lead in the democratic response to the pandemic with women's leadership.
Strong leadership qualities, such as integrity, empathy, and clear communication, are helping women respond to the pandemic effectively.
The latest research by the Westminster Foundation for Democracy tells us:
Women policy makers prioritise issues that benefit the most vulnerable in society, such as healthcare, welfare and education.
On average, women work harder than men to represent their constituencies, which is linked to a stronger sense among voters that government is responsive to their needs.
Increased representation of women in elected office is associated with counteracting corruption and focusing resources on the quality and consistency of public service delivery.
States where women hold more political power are less likely to go to war and less likely to commit human rights abuses.
Women bring collaborative and inclusive leadership styles into political environments that are often characterised by division and one-upmanship.
In the past three days, you have been involved in discussions about women's participation in political and civil life exploring leadership styles, identifying your personal and professional goals and strategies to achieve them.
The Community of Democracies hopes these trainings offered to you will strengthen your capacity, equip you with new necessary skills and knowledge, and build your network to be able to run in election, participate in political parties, become civil society leaders and lead Gambia's transformation towards a fully democratic, inclusive, and peaceful society.
Allow me to close by quoting the Warsaw Declaration, which says "Women's participation in all areas of life is a crucial component of a democracy."
The Community of Democracies is determined to continue taking concrete actions to advance gender equality in public life and empower women and girls through working with Governing Council Member States and civil society.
The story of The Gambia and its return to democracy still inspires people around the world.
It was a pleasure to join you today and I hope that when conditions allow, I am able to return to your country and speak with you in person.
Please do not hesitate to contact the Permanent Secretariat of the Community of Democracies during and after the workshops, the contact email should appear in the chat box in a moment.
For you and your families, your communities I hope you will stay healthy and stay united.