#CoDYouthLeads: Bryan's story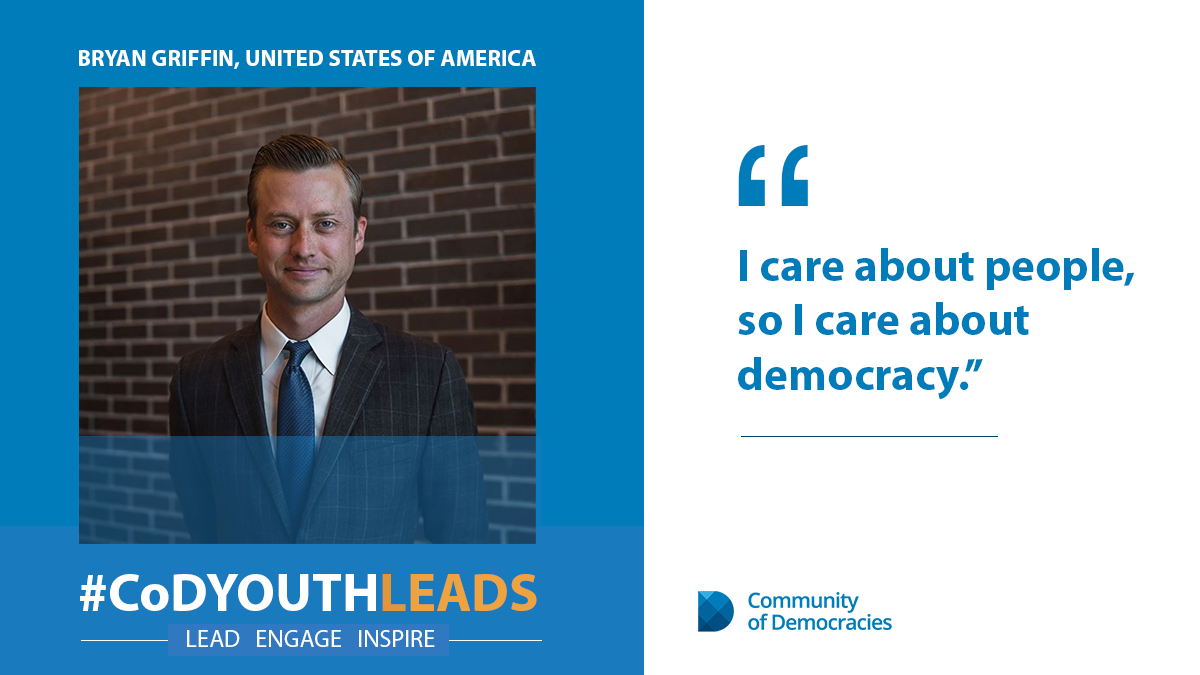 For Bryan Griffin, promoting the values of democracy and human rights is part of daily work. As a senior fellow at the New York City-based London Center for Policy Research, Bryan writes, speaks, and produces radio segments about the unique benefits of democracy, keeping perspective to the critique. In his story, he shares his thoughts on why democracy is the fairest and best form of governance.
 "I care about people, so I care about democracy"- Bryan Griffin, USA.
I care about people, so I care about democracy.
 My career and my passion intersect with a desire to help people. I advocate for limited, participatory government because I recognize the danger of authoritarianism and cherish the right to self-determination granted to all of humanity, by God, as our birthright.
 At the University of Florida, I studied law. At Columbia University, I specialized in American foreign policy in the Middle East and served as the Editor in Chief of the Columbia Journal of International Affairs.
Now, I am a senior fellow at the London Center for Policy Research. Our think-tank exists to build support among American political decision-makers for free-market domestic policy and American-led foreign policy, built upon the values of democracy. I am also the National Field Director of the Maccabee Task Force, a pro-Israel advocacy organization created to support the nation of Israel.
I write, speak, and produce radio segments about the unique benefits of democracy, as well as work and volunteer in fields that promote them.
I volunteer, serve, and work to build support for the unique elements of American democracy as my home country and as an example of the power of freedom and responsive government. America is an incredible success story of personal liberty.
Though it may not be perfect, democracy and free-market capitalism are the fairest and best systems of human governance and exchange. Daily, I work to promote the extraordinary benefits to human rights and standards of living that democracy produces. The world is full of activists who seek to better the system, especially among younger generations. I consider my work to be keeping perspective to the critique. We must consistently remember the moral superiority of democratic governance over any form of authoritarianism, or else we forget the horrors shared by humanity under tyrants and monarchies of previous eras.
This is why I support the vital work of the Community of Democracies (CoD) through the Warsaw Declaration. The principles of democracy must be held sacred. The CoD both reminds democratic governments of their values and the oppressed of the promise of democracy one day to be achieved.