#CoDYouthLeads: Laura's story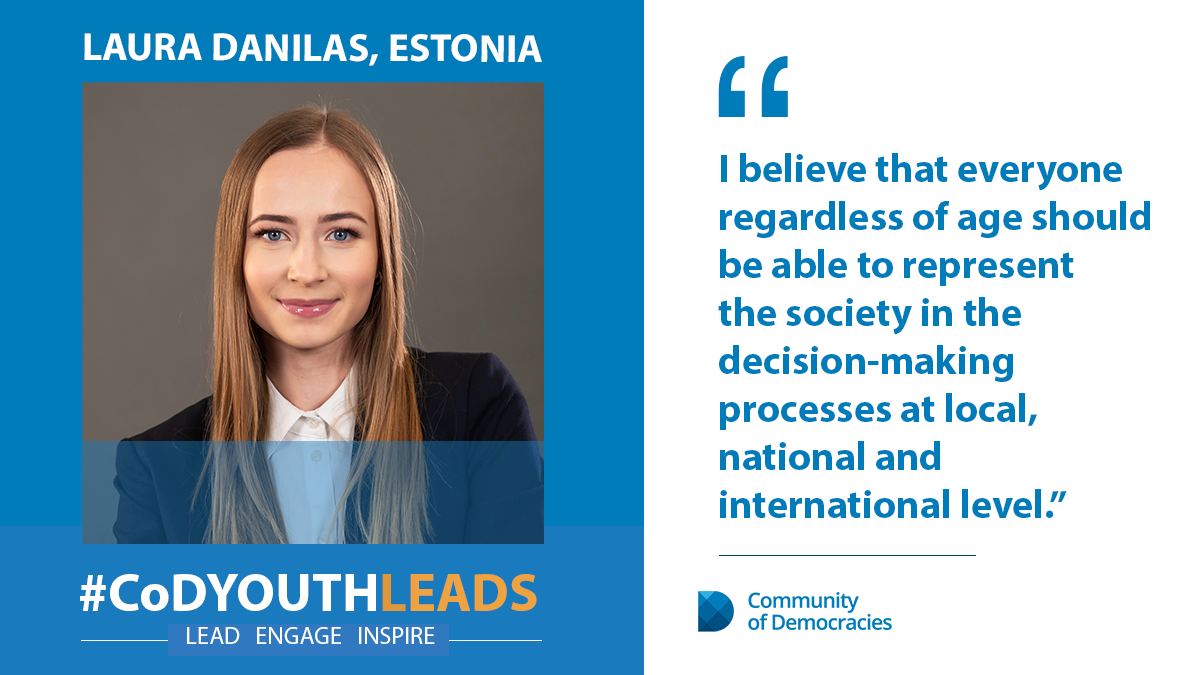 The youngest member of the Tartu City Council, Laura grew up in democratic Estonia, hearing many stories of life when her country was occupied by the former Soviet Union.   She understands that democracy can never be taken for granted; that one must learn from the past yet not live in the past. The example of Laura Danilas shows youth inclusion in policy-making is essential to solve the challenges of today and the future. 
 "I believe that everyone regardless of age should be able to represent the society in the decision-making processes at local, national and international level"-  Laura Danilas, Estonia.
I was only a child when the Warsaw Declaration was adopted, but I've always known the value of democracy. Estonia was part of the Soviet Union until 1991, when we regained our independence. I was told stories of life under the communist regime: our language, our anthem and flag were banned. Taking into consideration the history of my country, all Estonians know the value of democracy.
Abraham Lincoln said, "The ballot is stronger than the bullet."  I decided to serve the public in local politics, and since 2017 I am the youngest member of the City Council of Tartu. Everyone, regardless of age and cultural differences, should be able to represent society in decision-making processes at the local, national, and international levels.   The Warsaw Declaration, in its Principle Two, sets out the right of every person to equal access to public service and to take part in the conduct of public affairs.
The Warsaw Declaration upholds the core democratic values of liberty, equality, justice, and respect for human rights. I encourage all young people to make a difference and promote, defend, or strengthen democracy in their countries.
We often take democracy for granted. In today's world, there are so many forces that can endanger democracy – extremist parties, autocratic countries, and fake news. We see how democracy has nearly disappeared from some countries. Young people can play an immense role in promoting democracy because we will be the civil and political leaders of the future. All youth in politics should be committed to fostering democratic principles and increasing interest among their peers all over the world to engage in democratic processes.
Although I was born in an era of freedom, I know from the recent past that democracy is fragile.  Once we have democracy, we have to think about how to keep it.
We have to learn from yet not live in the past. This has given me the inspiration to support democracy in my country. Positive youth engagement in policy-making is essential to solve the challenges we face today. All decisions we make now will affect us in the future.
People must feel they matter.  Positive change for a more productive, transparent, resilient, and inclusive government begins with us.