#CoDYouthLeads: Lynrose's story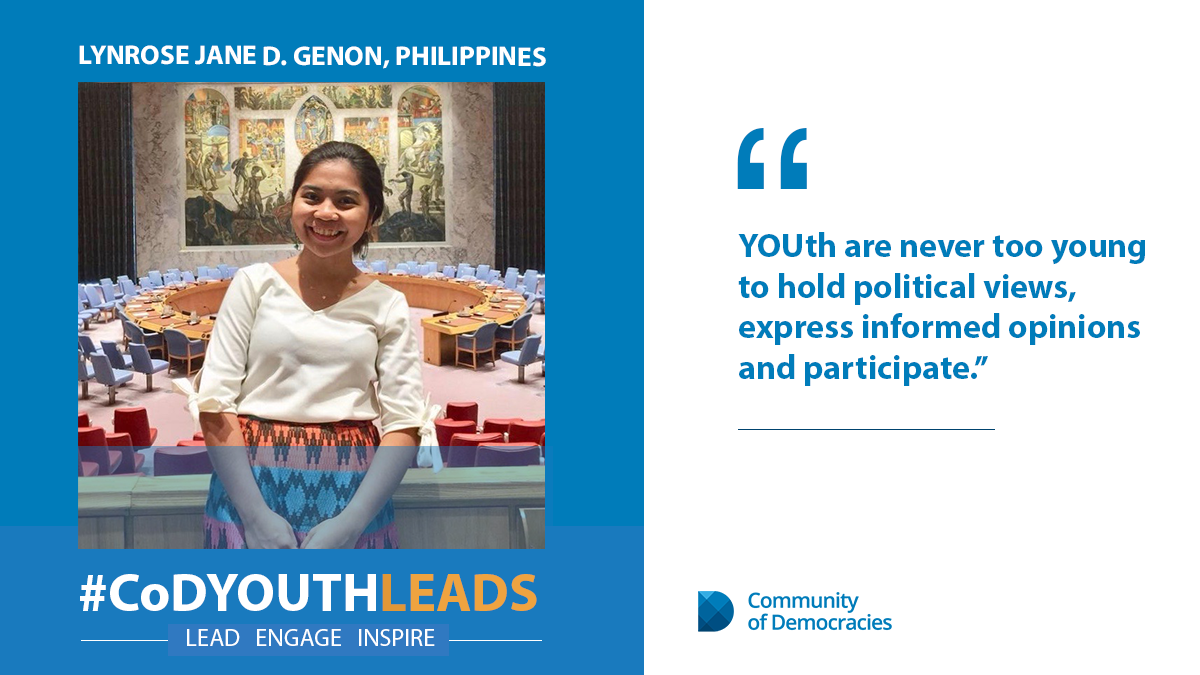 As the youngest person and a woman in a male-dominated local elected council, Lynrose knows both the opportunities and challenges related to young people's inclusion in public life. Her story shares experiences of inclusion but at the same time marginalization, and highlights you are never too young to express your opinion and to participate in public life.
 " YOUth are never too young to hold political views, express informed opinions and participate"- Lynrose Jane Genon, Philippines.
As a young woman, I believe that  YOUth have the capacity for powerful action.
I was elected when I was 16 years old as the Sangguniang Kabataan (Youth Council) chairperson in our barangay, the smallest political unit in the Philippines. I was the youngest member of a male-dominated council. During my elected tenure, I experienced systematic marginalization because of my age and was considered to have a lack of experience and grasp of "how the system works." Ironically, the reason that first prompted me to seek this position is the same reason that made the job difficult. That experience of exclusion despite the election to an office did not discourage me. Instead, it inspired me to look for a more enabling environment to continue my community engagements after my political term expired.
Working with youth and young women in capacity-building programs and organizing community discussions on gender equality and human rights has taught me valuable lessons.  If youth are allowed to voice their opinions, and play a meaningful role in political decision making, they consistently demonstrate commitment and the ability to create positive change, to demand and defend democracy. I  feel very strongly about the right of every person to freedom of opinion and expression, the core democratic principles of the Warsaw Declaration.  People, regardless of age, can share and exchange their views and ideas.
I also learned that the quality of democracy is determined by more than just the creation of institutions that promise meaningful inclusion.  The quality of democracy is determined by how meaningful is the real participation of different social groups, such as women and youth, in decision-making in these institutions.   The Community of Democracies (CoD) Warsaw Declaration highlights the right of every person to equal access to public service and to take part in the conduct of public affairs. The Declaration also states that government institutions should be open to all, and they can't be fully participatory without the inclusion of youth.
At present, I continue my active engagement in enhancing the capacities of my fellow youth in collaboratively creating solutions and in challenging socio-cultural and institutional barriers to participation through Project YACAP (Youth Amplifying Co-creating and Advocating Peace), Young Women Leaders for Peace-Philippines and the 16x 16 Initiative.   Through these groups, I am making sure that we are not just at the table, but shaping the table.
YOUth are never too young to hold political views and express informed opinions and participate.