#CoDYouthLeads: Rita's story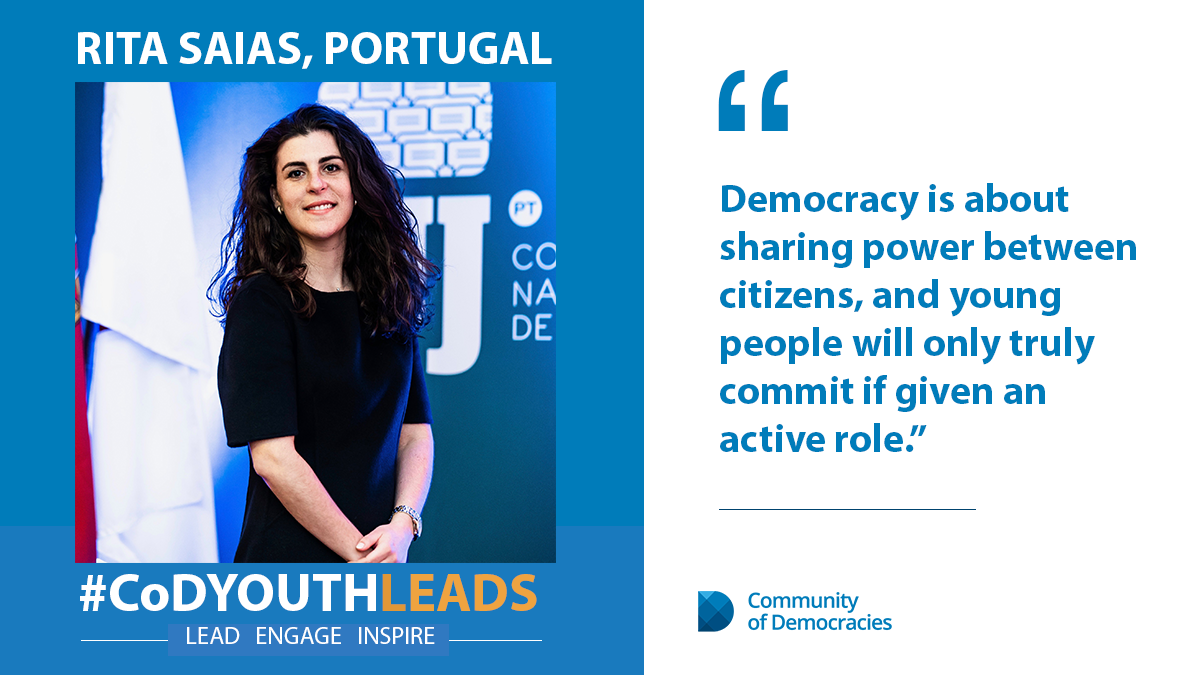 As Chair of the Portuguese National Youth Council, Rita is committed to representing and giving a voice to young people, believing that democracy is about sharing power between citizens. In her story, she talks about bridging the gap between policy-makers and young people. She highlights why we need to move from giving youth a merely advisory role to their meaningful inclusion in the decision-making processes.
 " Democracy is about sharing power between citizens, and young people will only truly commit if given an active role"- Rita Saias, Portugal.
As I prepared to give a lecture to young people in a foreign nation on social entrepreneurship and its impact on public policies, I learned that higher officials were closely monitoring the class. I realized then, more than ever, the importance of free speech that I experienced back home but also the power of young people to change the status quo and hence democracy. The right to freedom of opinion and expression is one of the core democratic principles of the Warsaw Declaration.
Growing up, I was lucky to have had experiences in different countries that transformed my outlook on the world and the role young people are to play in it. It started with a student exchange in Norway at the age of 18; then, I went on to pursue my higher education in political science and volunteering and working for local and international organizations like UNICEF in Mozambique, São Tomé and Principe, and Italy. Those adventures fueled my passion for democracy as I had the opportunity to experience different cultures and diverse views on democracy, public affairs, accountability, and citizen involvement. Through these experiences, I realized how much they influence our engagement as young people and our sense of belonging and entitlement to contribute to institutions and communities.
Back at home, I wanted to keep involved in strengthening democracy, applying what I had learned. While starting again at a grassroots level, what inspired me was the transformative power of young people, and the importance of youth-led organizations in empowering young people to be active in shaping their countries. Understanding this potential led me to run for office at the National Youth Council of Portugal, to bridge the gap between policy-makers and young people and shape youth policies together.
Democracy is about sharing power and the opportunity to take part in the conduct of public affairs, as the Warsaw Declaration states. A shift needs to take place from the mere advisory role to having a seat at the decision-making table through equal access to public service.
Young people will only truly commit their gifts and talents if they are given an active role in public life.