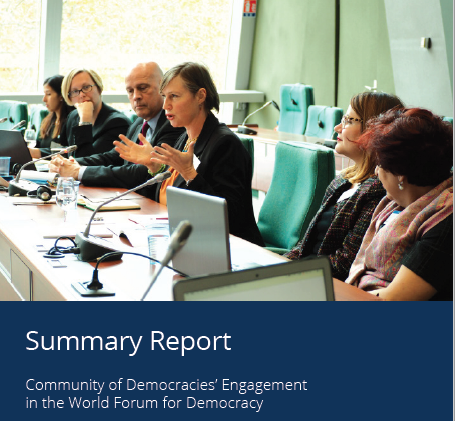 The report summarises the Community's activities at the World Forum for Democracy held in November 2018 in Strasbourg, including:
The Community's satellite event: "Building Sustainable Peace: The Importance of Women's Inclusion" 
The event explored the role of women in peace-building processes, specifically women's inclusion in the development of strategies for sustaining peace, and addressed good practices for advancing women's participation in sustaining peace.
WFD's roundtable discussion: "Has Democracy Failed Women? New Democratic Practices and Women's Participation" 
Participating in the roundtable discussion Secretary General Thomas E. Garrett reviewed existing practices of women's inclusion in participatory democracies, noting the recent gains in women's political participation in the Community's Governing Council Member States.
Download