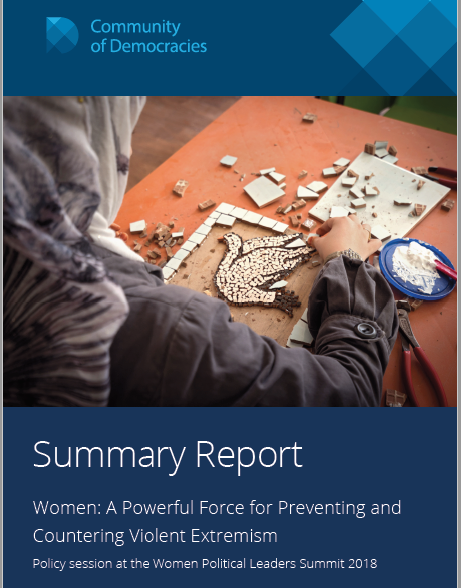 The gender aspect of violent extremism has been largely understood through awareness about how women and girls uniquely suffer from its impact. What is less understood is the important role that women can, and should, play in preventing and countering violent extremism (P/CVE).
Facilitating a continued discussion on the findings of the Democracy & Security Dialogue and building up on the Advancing Women's Political Participation policy recommendations, the CoD held a session on ''Women: A Powerful Force for Preventing and Countering Violent Extremism'' at the Women Political Leaders (WPL) Summit on June 8, 2018, in Vilnius, Lithuania. The session addressed:
The role of women in P/CVE: existing stereotypes and evidence-based reality;
Gaps remaining in the international legal framework on P/CVE;
Importance of women's inclusion in national law enforcement and security agencies;
Good practices on promoting women's inclusion, women's political participation, leadership and empowerment across society;
Correlation between improvement of women's participation in policy making and actual development of gender sensitive P/CVE policies.
This report summarises the discussion and outlines recommendations on increasing women's participation in preventing and countering violent extremism.
Download